The expansive Copperview project is a strategic acquisition of quality properties with immediate exploration upside and the potential to host major copper-gold porphyry systems and polymetallic mineralization. The acquisition terms are favorable, and the ready access and setting allow for immediate field investigation of known showings and targets by our exploration team.

Mike England, Golden Lake CEO & President
Project Overview
The Copperview project is located in south-central British Columbia. The project is situated on the same regional geologic trend as and surrounding the MPD Property owned by Kodiak Copper Corp., who recently reported an intercept in drill hole MPD-20-004 of 282 meters averaging 0.70 percent copper and 0.49 grams gold per tonne (see PR Kodiak, September 3, 2020). Kodiak indicates this intercept represents a "significant high-grade copper-gold extension of the recently discovered Gate zone", located in the well-known, prolific southern portion of the Quesnel trough, host to numerous producing, past-producing and advanced development stage copper-gold porphyry deposits.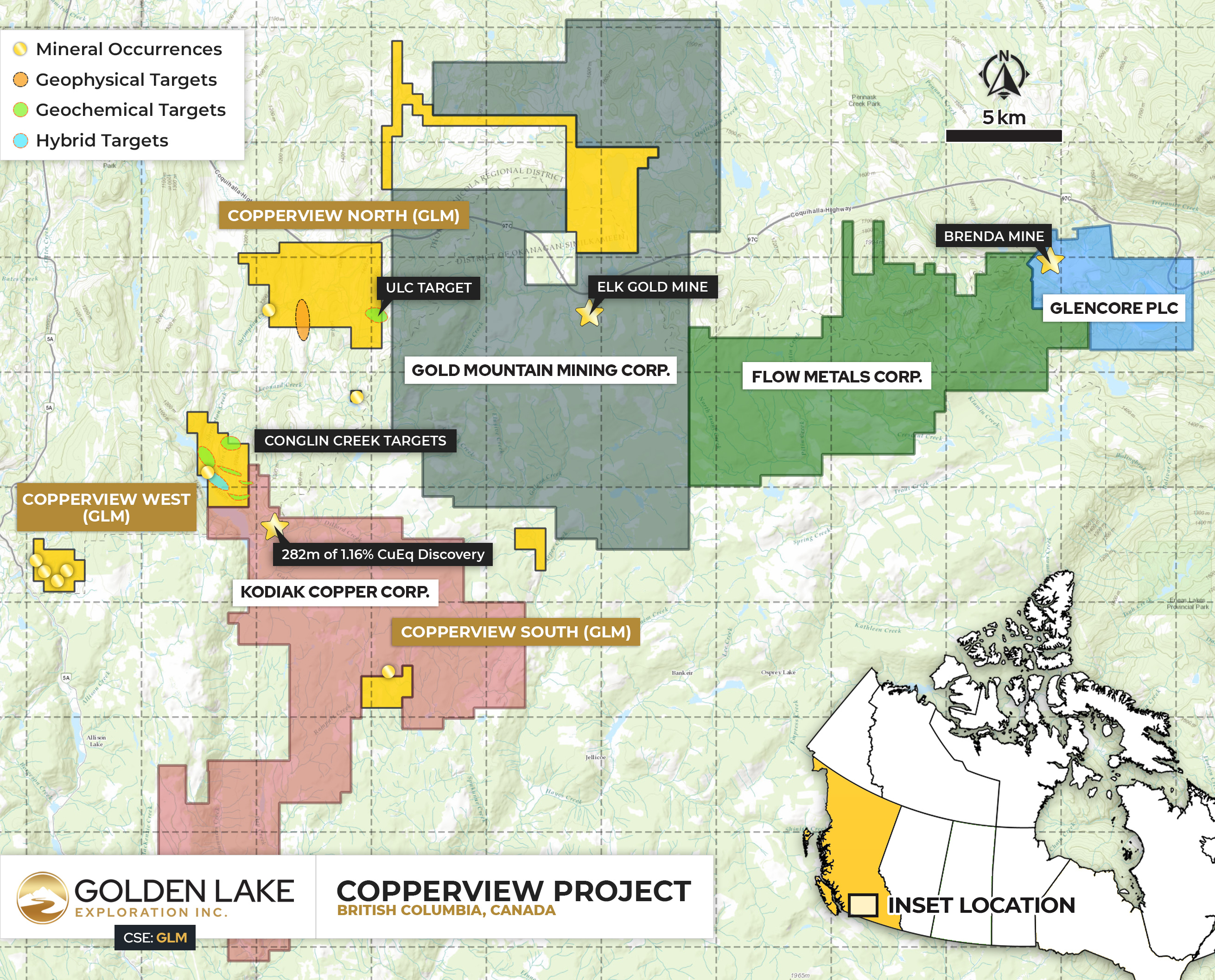 Much of the Copperview project has seen only limited exploration activity and only a few shallow drill holes. Historic exploration focused largely on exposed surface mineral showings and several large untested copper-in-soil and gold-in-soil anomalies are known and can quickly be advanced to new near-term drill targets. With some exploration activity dating to the 1960-1970s, many historical copper intervals were not assayed for gold, representing underexplored gold potential.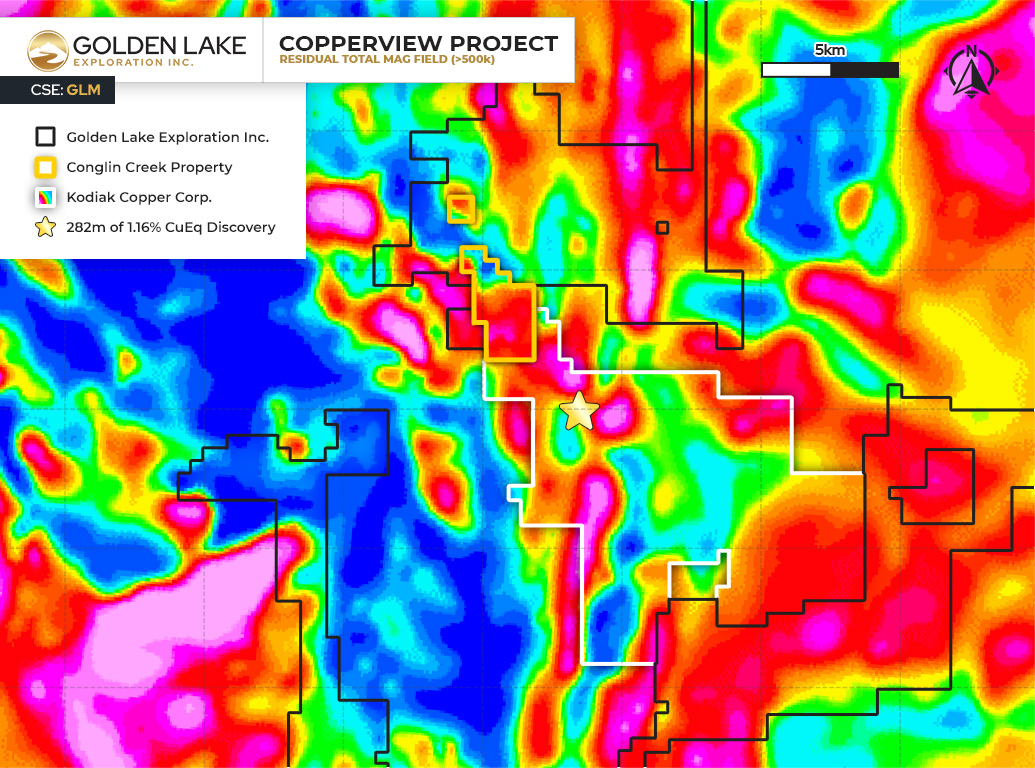 Golden Lake recently acquired (see PR Golden Lake, September 22nd, 2020) an additional strategic property known as the Conglin Creek Copper Property located contiguous and north-west of Kodiak's MPD Property. The property covers a strong magnetic high anomaly that trends in a north-west, south-east direction from the Gate and Prime zones on Kodiak's MPF Property. A soil geochemistry survey completed in 1973 indicates strong copper-in-soil anomalies trending north-west to north-south. Copper values of + 400 parts per million ("ppm") occur of strike lengths of 125 to 150 meters, enclosed by copper anomalies with values of 200 - 400 ppm Cu over strike lengths of 400 to 500 meters. Note that the Company has not verified the values in government assessment filings, and they are not to be relied upon, and additional sampling, assaying and verification is required. The Company's recent acquisition also covers the Conglin Creek Showing (Minfile 092HNE132, BC government designation). There has not been drilling on the Conglin Creek property, to the best of the Company's knowledge.
Join Our Mailing List
Subscribe to our mailing list to receive updates and other news related to Golden Lake Exploration.
Please enter a valid email address.