Project Highlights
Located near excellent infrastructure with ready road accessibility and ease of access
Located in proven mining districts with extensive current production and previous mining history
Reliable and extensive data base from previous exploration programs allowing for efficient target prioritization and an expedited drill phase
Cost-effective exploration activities nearly year-round

Project Overview
Jewel Ridge is located on the south end of Nevada's prolific Battle Mountain - Eureka trend, strategically along strike and contiguous to the former Barrick Gold, two million gold ounce Archimedes/Ruby Hill mine to the north and Timberline Resources' advanced-stage Lookout Mountain project to the south. The property consists of 96 unpatented lode mining claims and 30 patented claims covering approximately 728 hectares (1800 acres). The Jewel Ridge property contains several historic small gold mines which align along a north-south-trending stratigraphic contact of Lower Paleozoic sedimentary rocks, as well as several other gold-mineralized zones with a variety of structural and lithological controls. Multiple targets occur on the property with Carlin-type gold mineralization.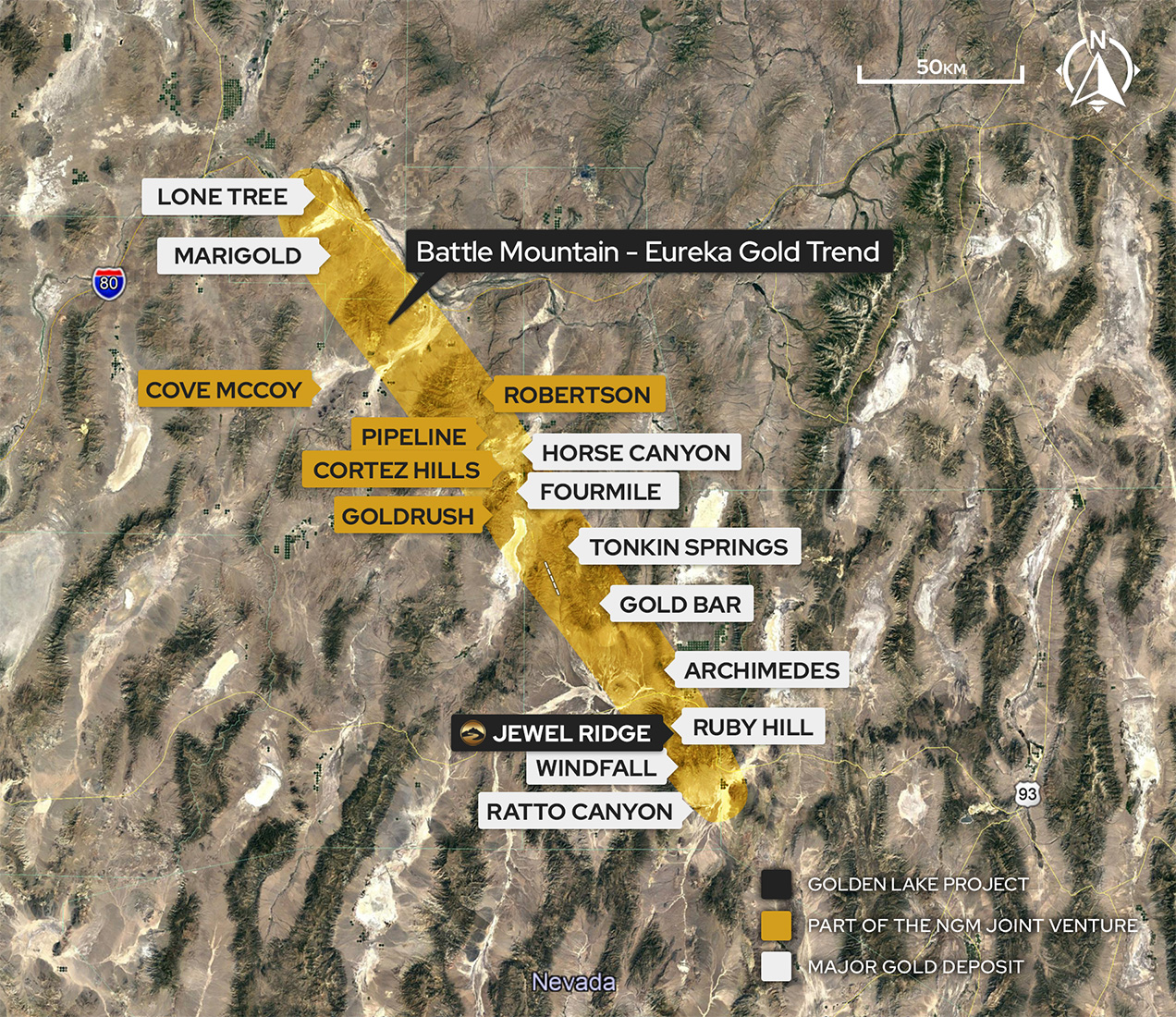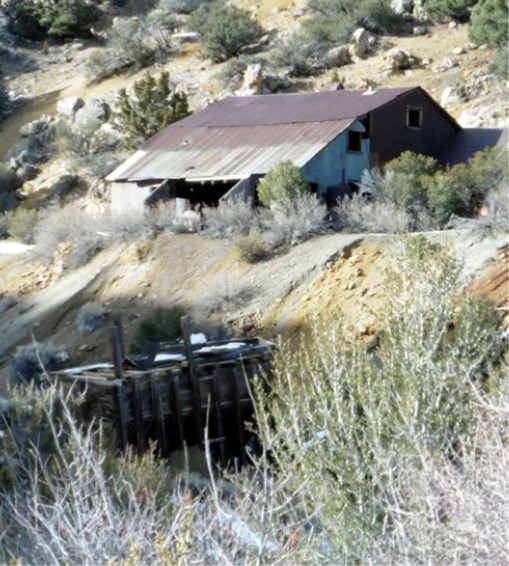 Project History
Discovered in 1854, the Eureka Mining District produced about 1.65 million ounces of gold from 1870-1890. Rich oxidized bonanza ores mined near the surface accounted for most of the district's production, they averaged about 1.1 oz Au/ton ( 38 Au g/t), 27 oz Ag/ton (926 Ag g/t) and 17 % Pb (Shawe and Nolan, 1989).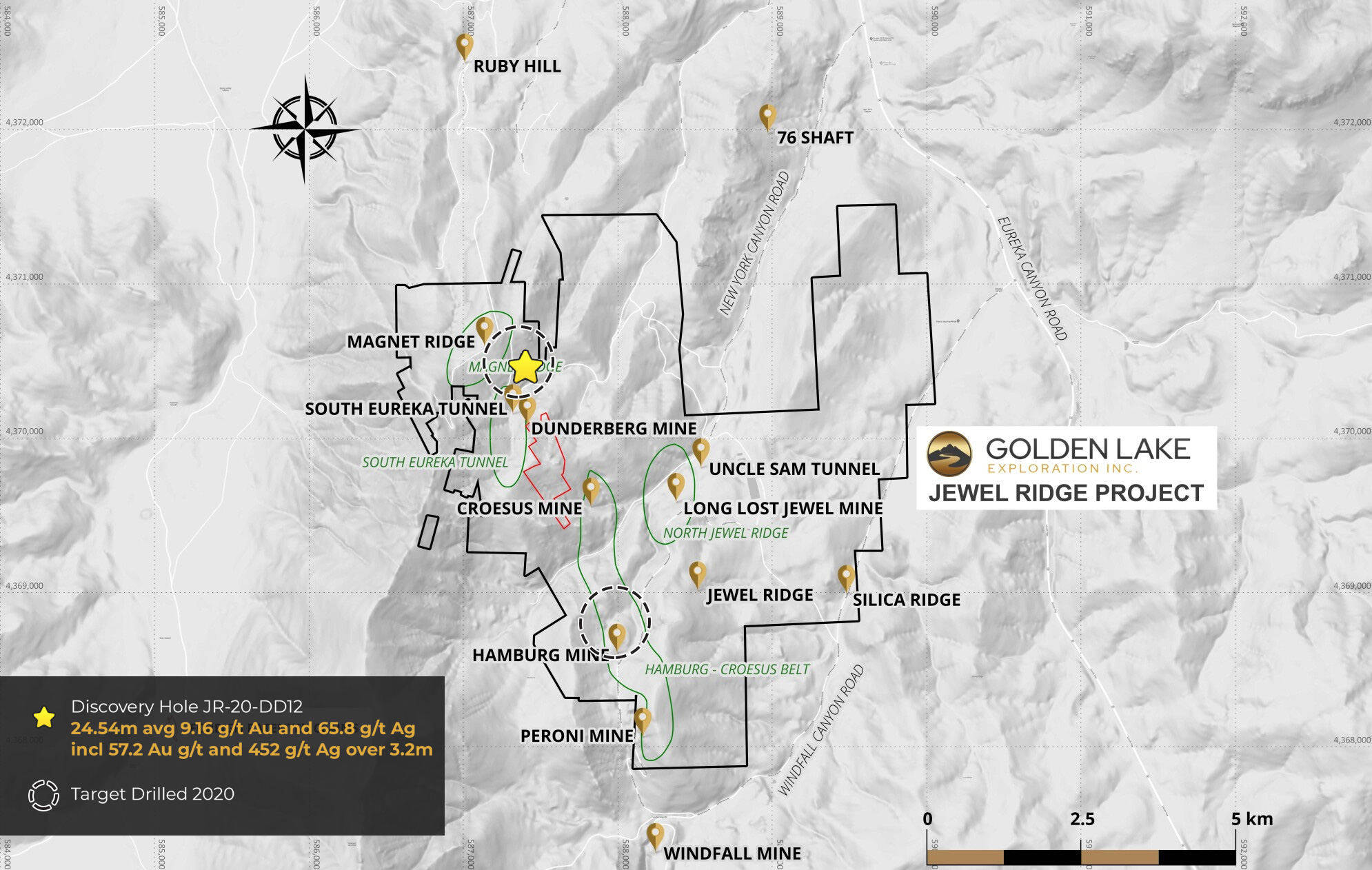 Property Geology
The deposit types of interest at Jewel Ridge are Carlin-type, sedimentary rock-hosted, gold deposits and carbonate replacement deposits. Carlin-type deposits include many deposits that occur in the Battle Mountain-Eureka Trend, Carlin Trend and other well-known mineral trends in north central Nevada. Jewel Ridge is located adjacent to, and south of, the former Ruby Hill gold property, which was operated by Homestake Mining Company from 1997 until 2002 and produced about 680,000 ounces of gold from the Archimedes open pit. In February 2007, Barrick Gold Corp. commenced production on a 1.1-million-ounce gold resource from the adjoining East Archimedes deposit. From 1976–2012, production from these Carlin-type deposits in the Eureka district was approximately 44.9 tonnes (1.38 million ounces) of gold (NBMG, 2014).
Carlin-Type

Gold Mineralization

Signature characteristics of Carlin deposits include:
Favorable sedimentary rocks (silty limestone & limey siltstones)
Favorably faulted structure
Gold-bearing hydro-thermal solutions
Nearby gold deposits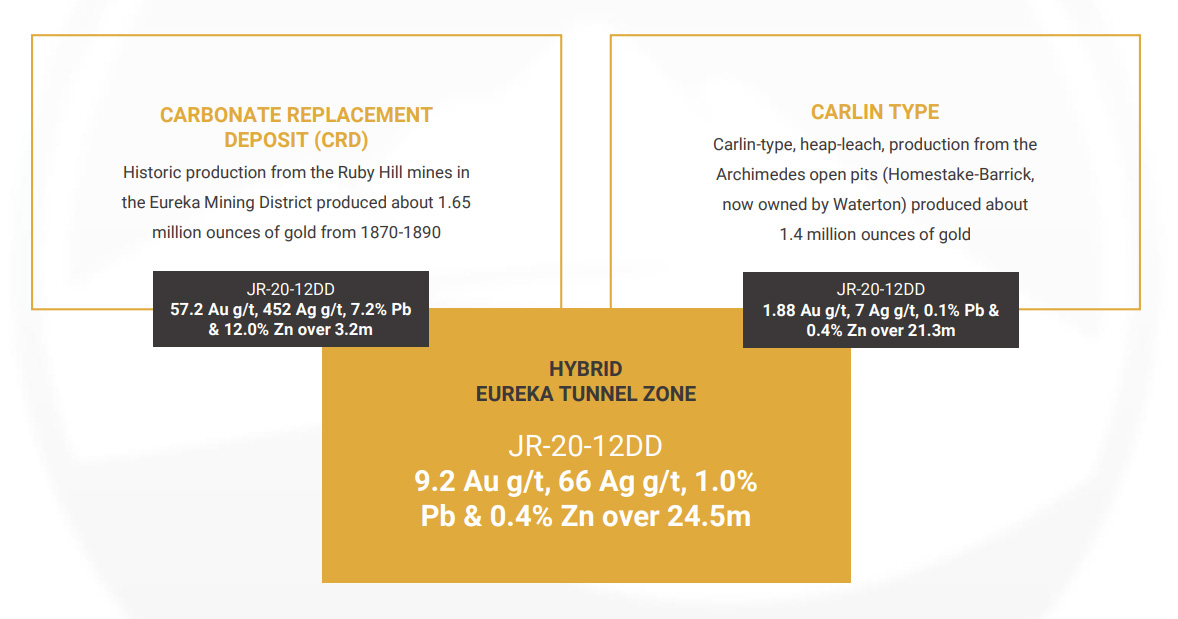 Radio Target
In summer 2020 Golden Lake's geological team confirmed previous reported results on the Radio Tower target and also sampled a new mineralized zone designated as the A&E Target (historic results up to 29.49 g/t Au, 333.0 g/t Ag).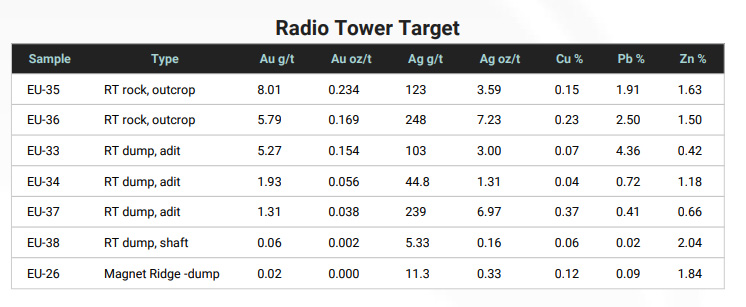 A & E Target
The A & E Target is located approximately 500 meters south-southeast of the Radio Tower Target. Significant historic mine dumps are scattered in the A& E area, interpreted to be from the "Sterling Mine" operations (note: limited historic data available), focused on carbonate-replacement style mineralization.
Four rock grab samples were taken from A & E Target, located on patented claims, all returning significant gold and silver values, associated with copper, lead, and zinc mineralization representative of a CRD (Carbonate Replacement Deposit) style of mineralization.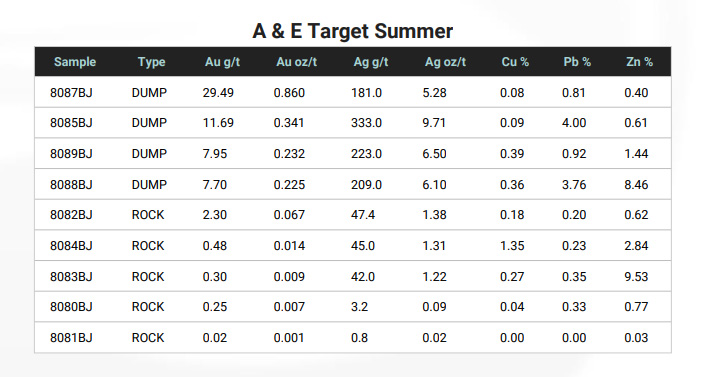 Croesus and Connelly Mine Targets
These mines represent the last major underground mining on the Jewel Ridge property directed at CRD gold, silver, and lead deposits from 1917 to 1920. Shafts, dumps, and buildings from these operations exist on the property today. Operations ceased in 1920 when silver crashed to $0.80/ounce in June of that year. Most recent grab samples of dump and old workings returned significant gold and silver values, associated with copper, lead, and zinc mineralization representative of a CRD style of mineralization.
Northeast Eureka Tunnel
The area northeast of the Eureka Tunnel target is an area of intense road building and shallow, historic drill holes. Soil values returned gold values up to 0.47 g/t Au in the area of the rock samples reported above. Silver and base metals values are markedly lower on samples from this target area and are interpreted to reflect Carlin-style, oxide gold mineralization.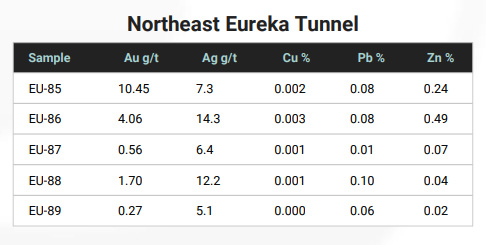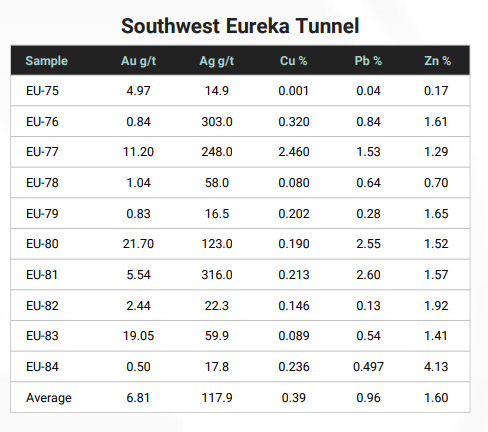 Southwest Eureka Tunnel
Selective rock grab samples taken from the Southwest Eureka area have returned the highest gold values to date by Golden Lake on the property. Sample EU-80 returned 21.70 grams gold per tonne (g/t Au), 123.0 grams silver per tonne (g/t Ag), 0.19 percentage copper (% Cu), 2.55 % lead (Pb) , and 1.52 % zinc (Zn). A total of fifteen (15) rock grab samples were taken in two areas.
Little information is known about this target area, but significant mine dumps from the Industry Tunnel workings are located topographically above, and to the west of the area sampled. The geology and metal distribution are supportive of a carbonate-replacement style of mineralization at this target area.
Magnet Ridge Target
The Magnet Ridge target is a prominent north-east trending topographic feature, where limited historic mining has occurred on CRD (carbonate replacement deposits) silver-gold-lead-zinc mineralization. A soil survey indicated a strong anomaly over the ridge and west flanks, defined by 22 samples on six traverse lines, the anomaly is over 2,800 ft long (850 m) in a north-south trend (open to the north), varying from 600 ft (180 m) to 1,000 ft (305 m) wide, averaging 132 parts per billion gold (ppb Au) and 2.33 parts per million silver (ppm Ag), with associated arsenic, copper, and lead values. Peak gold values in this anomaly are 408 ppb Au, peak silver values are 12.60 ppm Ag. To date, only 6 drill holes have been drilled on the east flank of the Magnet Ridge anomaly with 4 holes returned low grade gold values. Additional drilling is planned following additional geological and structural mapping.
North Dunderberg Target
The North Dunderberg target is located approximately 600 ft (180 m) due north of the Dunderberg mine area. The anomaly trends roughly north-south, is approximately 1,600 ft (490 m) long and varies from 600 to 800 ft wide (180 to 245 m).
Valley Target
The Valley target is a narrow gold and silver anomaly that trends northeast-southwest through the central portion of the property for a strike length of approximately 3,000 ft (915 m). Additional sampling and geological mapping is required to confirm the nature and significance of this anomaly.
While grab rock samples are not representative of the grade of mineralization of an occurrence or target, they are useful in determining prospectivity and geological features.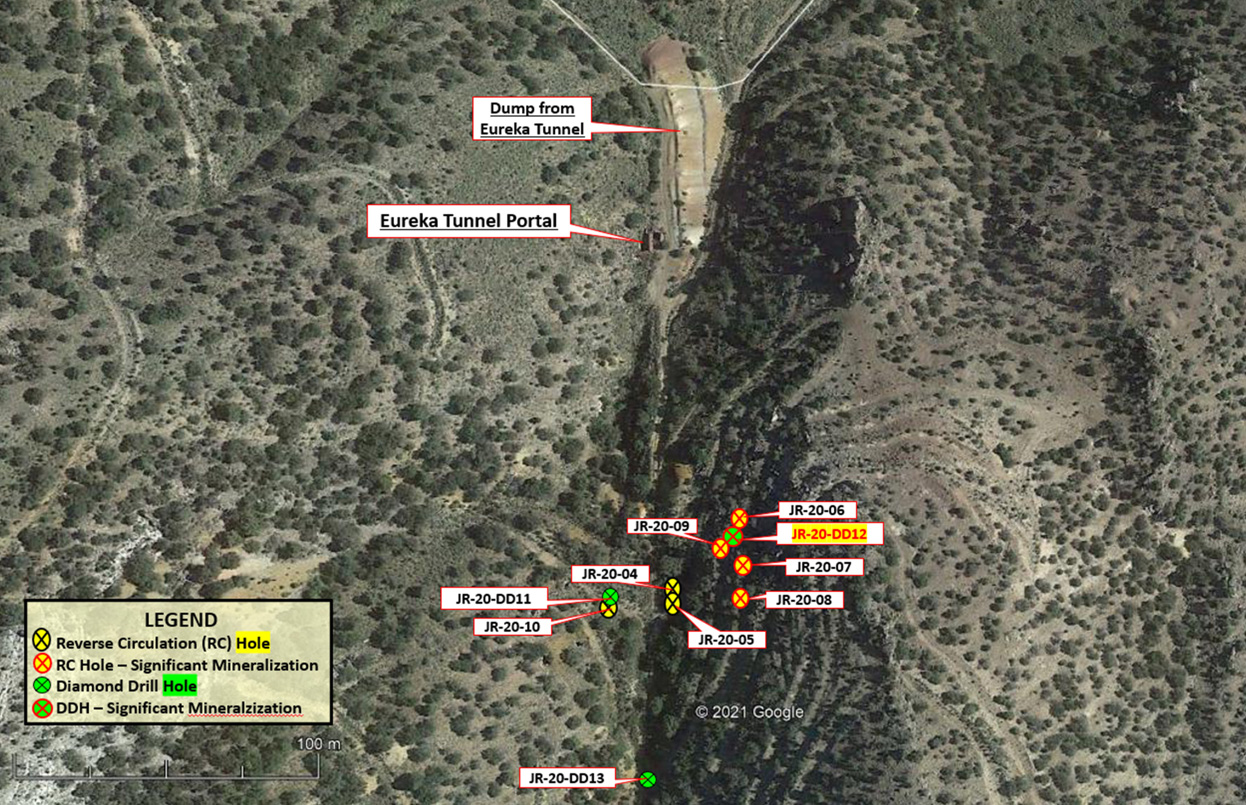 2020 Drilling highlights
The 2020 drill program discovered a high-grade (gold-silver-lead-zinc) mineralized oxide zone in diamond drill hole JR-20-DD12 on the Northeast Eureka Target. From surface an intercept of 24.54 meters was intersected returning 9.16 grams gold per tonne (g/t Au), 65.8 grams silver per tonne (g/t Ag), 1.03 percentage lead (% Pb), and 1.90 percentage zinc (% Zn). This intercept is hosted in Hamburg Dolomite and comprises both Carlin-type and CRD -type ("Carbonate Replacement Deposits") oxide mineralization.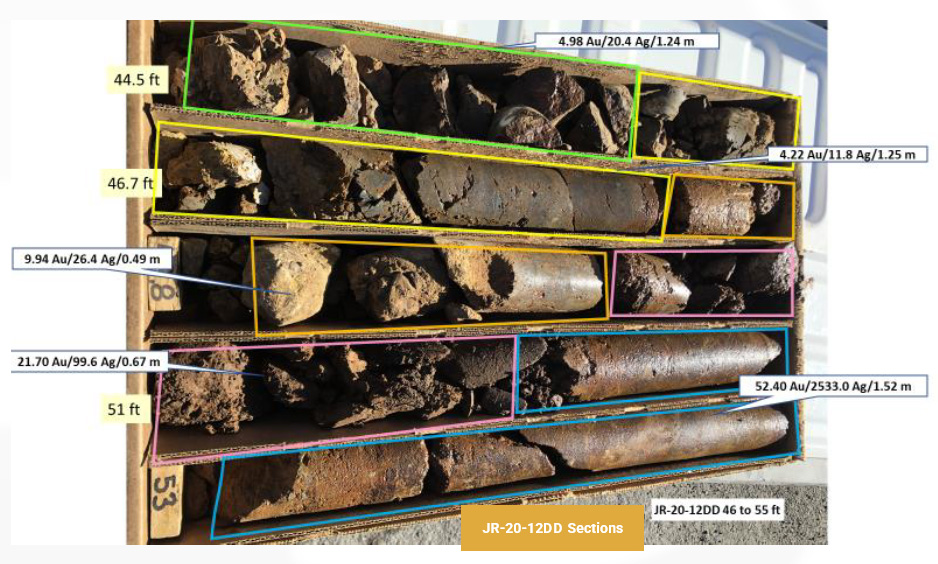 A higher "bonanza" grade portion from 15.21 meters to 18.44 meters returned 3.23 meters averaging 57.16 g/t Au, 452.0 g/t Ag, 7.23 % Pb, and 11.99% Zn. This "bonanza" intercept is interpreted by the Company geologists as similar to the historic Ruby Hill mines and can be described as an oxidized carbonate-hosted, structurally and lithologically controlled gold-silver (with associated lead-zinc) mineralization.

Join Our Mailing List
Subscribe to our mailing list to receive updates and other news related to Golden Lake Exploration.
Please enter a valid email address.