golden lake exploration increases eureka district property position by 50%, obtains high precious & base metal assays in surface grab sampling
Vancouver, British Columbia – September 26, 2023, Golden Lake Exploration Inc. (CSE:GLM) OTC:GOLXF) ("GLM or the "Company") is pleased to announce the staking of an additional forty-six Bureau of Land Management ("BLM") lode claims totaling 924 acres near its Jewel Ridge project in Eureka County, Nevada. GLM now controls approximately 2,642 acres or approximately 10.7 square kilometers ("km") in the prolific Eureka mining district. The new claims were staked to secure ground on which the Company obtained high-grade precious and base metal values in preliminary sampling. The property consists of unpatented lode claims that are 100% owned by the Company, without any royalty obligations or work commitments, and includes the historic Kentucky and Mountain Boy mines, as well as numerous small mines and prospects (Figure 1).
Initial selective grab samples taken by the company's geological team have returned significant precious and base metal values of up to 1.73 grams gold per tonne (g/t Au), 698 grams silver per tonne, (g/t Ag), 1.47 % copper (% Cu), 6.66 % lead (Pb), and >30 % zinc (Zn). Table 1 lists the initial sample results.
"With all of the exploration activity ongoing in the re-emerging Eureka District, Golden Lake is excited to be able to report a significant addition to our land position and the encouraging preliminary samples results from the newly acquired area." stated Mike England CEO of Golden Lake.
Table 1 – Initial sample results
| | | | | | |
| --- | --- | --- | --- | --- | --- |
| Sample Name | Au (ppm) | Ag (ppm) | Cu (%) | Pb (%) | Zn (%) |
| EUR-1 | 0.016 | 9.35 | 0.004 | 0.84 | 1.62 |
| EUR-7 | 1.250 | 594.00 | 0.738 | 4.03 | 18.55 |
| EUR-8 | 0.050 | 5.86 | 1.045 | 0.72 | 1.52 |
| EUR-9 | 0.334 | 186.00 | 0.190 | 3.74 | >30.00 |
| EUR-10 | 0.815 | 221.00 | 0.973 | 3.94 | 3.39 |
| EUR-11 | 0.974 | 200.00 | 1.475 | 3.86 | 1.86 |
| EUR-12 | 0.085 | 698.00 | 0.762 | 6.66 | 22.50 |
| EUR-13 | 0.114 | 98.00 | 0.036 | 2.60 | 0.51 |
| EUR-14 | 1.735 | 3.26 | 0.019 | 0.08 | 0.16 |
| EUR-15 | 0.009 | 0.57 | 0.001 | 0.01 | 0.03 |
| EUR 16 | 0.084 | 169.00 | 1.235 | 0.18 | >30.00 |
| EUR-17 | 0.136 | 27.90 | 0.045 | 0.32 | 7.77 |
Samples were collected from historic mine dumps and prospect pits. The samples are 100% oxidized gossan and are indicative of Carbonate Replacement Mineralization ("CRD"), typical of the historically mined mineralization in the Eureka District and currently being explored for at i-80 Gold's neighboring Ruby Hill property and other properties in the area.
While grab rock samples are not representative of the grade of mineralization of an occurrence or target, they are useful in determining prospectivity and geological features. The above rock samples were delivered by the company consulting geologist to the ALS prep facility in Elko, Nevada. All samples are analyzed for gold, silver and 48 other elements. Gold is determined by ALS method Au-AA23, which is a fire assay with an atomic absorption finish on a 30-gram split. The remaining 48 elements are determined by ALS method ME-MS61, which is a four-acid digestion and inductively coupled plasma atomic emission spectroscopy assay, with ALS OG62 analysis four acid ore grade analysis for the over-limit samples. Golden Lake is reliant on ALS Labs in Reno, Nev., for its QA/QC protocol as these are preliminary samples and limited in number.
About the Jewel Ridge Property
The Jewel Ridge property is located on the south end of Nevada's prolific Battle Mountain-Eureka trend, along strike and contiguous with i-80 Gold's Archimedes, Ruby Hill and FAD shaft gold deposits to the north, Timberline Resources advanced-stage Lookout Mountain project to the south and North Peak Resources Prospect Mountain Mine Complex to the west.
The property contains several historic precious and base metal mines as well as zone of disseminated Carlin-type gold mineralization at the Eureka Tunnel target. The Company's focus is on Carlin-type mineralization as well as CRD type mineralization.
Nevada Carlin-type gold deposits have a combined endowment of more than 250 million ounces, which are concentrated in only four trends or camps of deposits: Carlin, Cortez (Battle Mountain-Eureka), Getchell and Jerrit Canyon. The Company cautions that results on adjacent and/or nearby projects are not necessarily indicative of results on the Company's property.
About Golden Lake Exploration Inc.
Golden Lake is a junior public mining exploration company engaged in the business of mineral exploration and acquisition of mineral assets. Its objective is to acquire, explore and develop economic precious and base metal properties of merit and to aggressively advance its exploration program on the Jewel Ridge property.
Qualified Person
Golden Lake Exploration's disclosure of a technical or scientific nature in this news release has been reviewed and approved by Don Hoy, M.Sc., P.Geo., who serves as a qualified person under the definition of National Instrument 43-101.
ON BEHALF OF THE BOARD
"Mike England"
Mike England, CEO & DIRECTOR
FOR FURTHER INFORATION PLEASE CONTACT
Telephone: 1-604-683-3995
Toll-Free: 1-888-945-4770
Neither the Canadian Stock Exchange nor its Regulation Services Provider accepts responsibility for the adequacy or accuracy of this release.
FORWARD LOOKING STATEMENTS: This news release contains forward-looking statements, which relate to future events or future performance and reflect management's current expectations and assumptions. Such forward-looking statements reflect management's current beliefs and are based on assumptions made by and information currently available to the Company. Investors are cautioned that these forward-looking statements are neither promises nor guarantees, and are subject to risks and uncertainties that may cause future results to differ materially from those expected. These forward -looking statements are made as of the date hereof and, except as required under applicable securities legislation, the Company does not assume any obligation to update or revise them to reflect new events or circumstances. All of the forward-looking statements made in this press release are qualified by these cautionary statements and by those made in our filings with SEDAR in Canada (available at WWW.SEDAR.COM).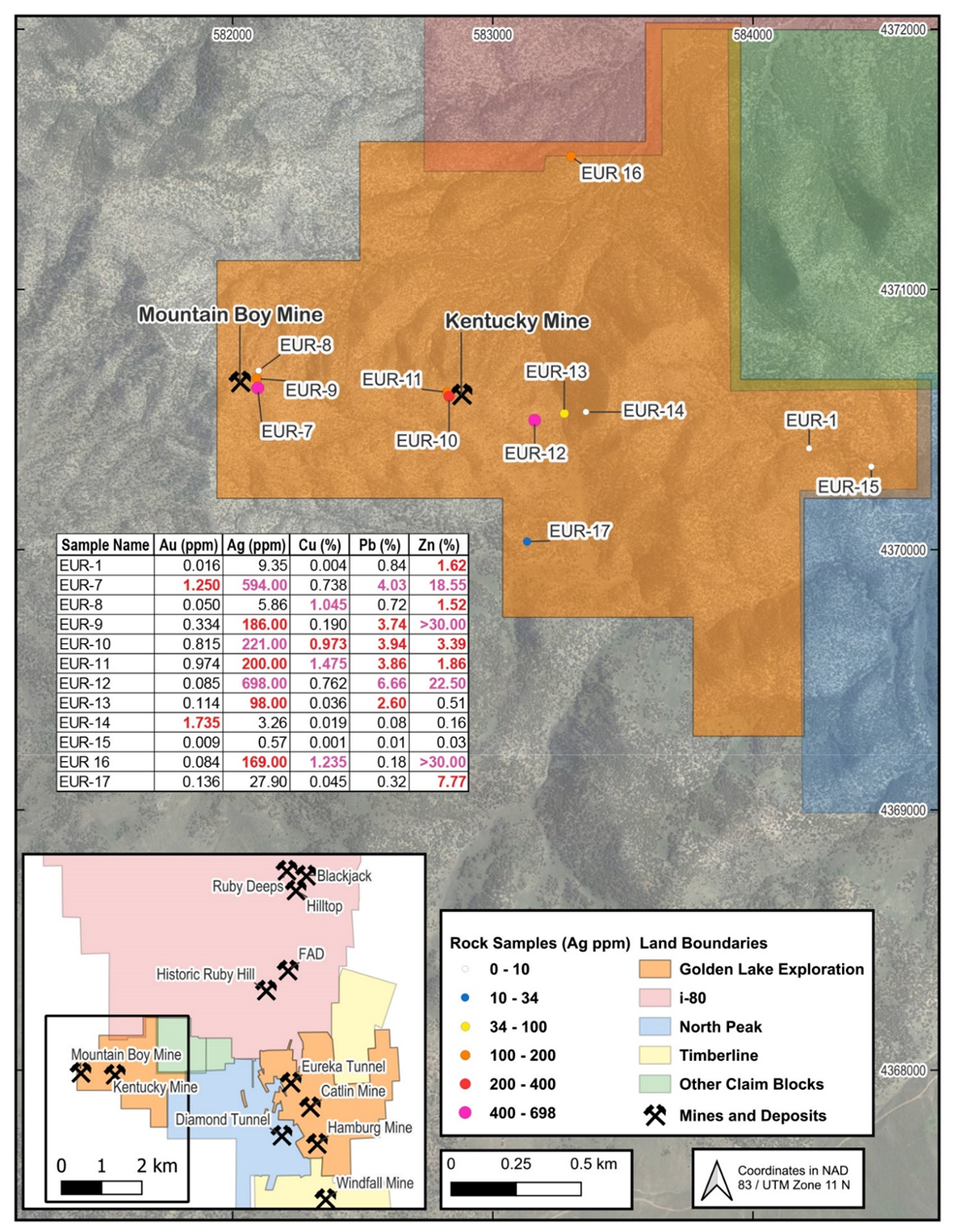 Figure 1 – Rock samples from the newly expanded Jewel Ridge property
https://www.goldenlakex.com/images/gallery/GLM_Jewel-Ridge_Figures_73.jpg
Join Our Mailing List
Subscribe to our mailing list to receive updates and other news related to Golden Lake Exploration.
Please enter a valid email address.