golden lake commences property-wide magnetotelluric (mt) survey on its jewel ridge property in the south eureka gold belt, eureka county, nevada
Vancouver, British Columbia – July 25, 2023, Golden Lake Exploration Inc. (CSE:GLM) (OTC:GOLXF) ("GLM' or the "Company") is pleased to announce that a property-wide Magnetotelluric (MT) survey has commenced on its flagship Jewel Ridge property (the "Property"), located in the prolific Battle Mountain-Eureka gold belt of central Nevada. The Property is located along structural and stratigraphic trend from i-80 Gold's Ruby Hill property, situated immediately to the north and contiguous with the Company's Jewel Ridge property.
Magnetotelluric (MT) Survey:
In view of the relatively shallow depths of diamond drilling completed by Golden Lake to date at Jewel Ridge, coupled with the depths of carbonate replacement deposit (CRD) mineralization encountered at the neighbouring FAD, Ruby Deeps, Black Jack and Lower Hilltop deposits (500 to 600 metres below surface), MT is thought to be the optimal geophysical method for detecting deep and conductive bodies of mineralization, in this part of the South Eureka gold belt.
MT is a frequency-based electromagnetic survey (EM) that utilizes electric and magnetic field measurements to calculate resistivity. Resistivity lows (or conductors) respond to and reflect the presence of metallic sulphide deposits, including semi-massive to massive CRD deposits. Resistivity highs, assist in mapping out alteration such as silicification and jasperoid, common alteration styles associated with CRD and Carlin-type gold deposits. MT surveys are capable of detecting sulphide bodies to depths of at least 1 kilometer, ensuring that the survey is seeing through and beyond the depths of oxidation, that persist to depths of 250 to 300 metres below surface, in this part of the district.
Such surveys have proven to be successful in detecting CRD mineralization in the district, in particular at the neighboring Upper Hilltop zone, currently being explored by i-80 Gold. MT conductors at this locale are known to be intimately associated with high-grade CRD mineralization, yielding drill intercepts of 28.9% Pb, 18.5% Zn, 515 g/t Ag and 0.9 g/t Au over 28.3 metres (see i-80 Gold news release dated December 19, 2022 & i-80 Gold pers. comm.)
The MT survey at Jewel Ridge comprises 40 line kilometres of detailed survey work and is anticipated to take 4 weeks to complete. Preliminary results will be released as they become available.
Jewel Ridge and the South Eureka Gold Belt:
District-scale structures at Jewel Ridge (Jackson Fault & parallel faults) are part of a 10 kilometre-long, north-south trending structural corridor, closely associated with neighboring intrusion-related deposits to the north at Ruby Hill, namely the FAD, historic Ruby Hill, Ruby Deeps, Hilltop, 426, Blackjack and Archimedes deposits. North Peak's Prospect Mountain property is situated on the same structural corridor to the immediate west of Jewel Ridge, at the Diamond mine.
At Jewel Ridge, historic shallow intercepts of CRD mineralization occur at the Hamburg mine, returning 10.7 g/t Au, 9.3 g/t Ag over 8.6 metres as well as at the Eureka Tunnel mine, yielding 9.2 g/t Au, 65.8 g/t Ag, 1.0% Pb & 1.9% Zn over 24.5 metres (Figure 1). These CRD occurrences together with the numerous other historic mines at Jewel Ridge comprise a two kilometer-wide, north-trending corridor, transecting the entire length of the Jewel Ridge property. Such mineral occurrences are the surface manifestation of a wide-spread high-grade CRD mineralizing system thought to be at depth on the Property. The deeper bonanza-grade intercepts over significant widths obtained by i-80 Gold immediately to the north, occur at depths of 500 metres and greater, underscoring a real need for deeper exploration methodology and subsequent deeper drilling at Jewel Ridge.
Michael England, CEO of Golden Lake Exploration stated: "We are excited to be getting this long-awaited geophysical program started. The MT results coupled with the recently completed drone magnetic survey supplemented by Golden Lake's historic drill results, will generate numerous quality intrusion-related targets, for an early fall diamond drilling program at Jewel Ridge."
Qualified Person:
Golden Lake Explorations' disclosure of a technical or scientific nature in this news release has been reviewed and approved by Donald Hoy, M. Sc., P. Geo., who serves as a Qualified Person under the definition of National Instrument 43-101.
About Golden Lake Exploration Inc.
Golden Lake Exploration is a junior public mining exploration company engaged in the business of mineral exploration and the acquisition of mineral property assets. Its objective is to acquire, explore and develop economic precious and base metal properties of merit and to aggressively advance its exploration program on the Jewel Ridge property.
ON BEHALF OF THE BOARD
"Mike England"
​Mike England, CEO & DIRECTOR
FOR FURTHER INFORATION PLEASE CONTACT
Telephone: 1-604-683-3995
Toll-Free: 1-888-945-4770
Neither the Canadian Stock Exchange nor its Regulation Services Provider accepts responsibility for the adequacy or accuracy of this release.
FORWARD LOOKING STATEMENTS: This news release contains forward-looking statements, which relate to future events or future performance and reflect management's current expectations and assumptions. Such forward-looking statements reflect management's current beliefs and are based on assumptions made by and information currently available to the Company. Investors are cautioned that these forward-looking statements are neither promises nor guarantees, and are subject to risks and uncertainties that may cause future results to differ materially from those expected. These forward -looking statements are made as of the date hereof and, except as required under applicable securities legislation, the Company does not assume any obligation to update or revise them to reflect new events or circumstances. All of the forward-looking statements made in this press release are qualified by these cautionary statements and by those made in our filings with SEDAR in Canada (available at WWW.SEDAR.COM).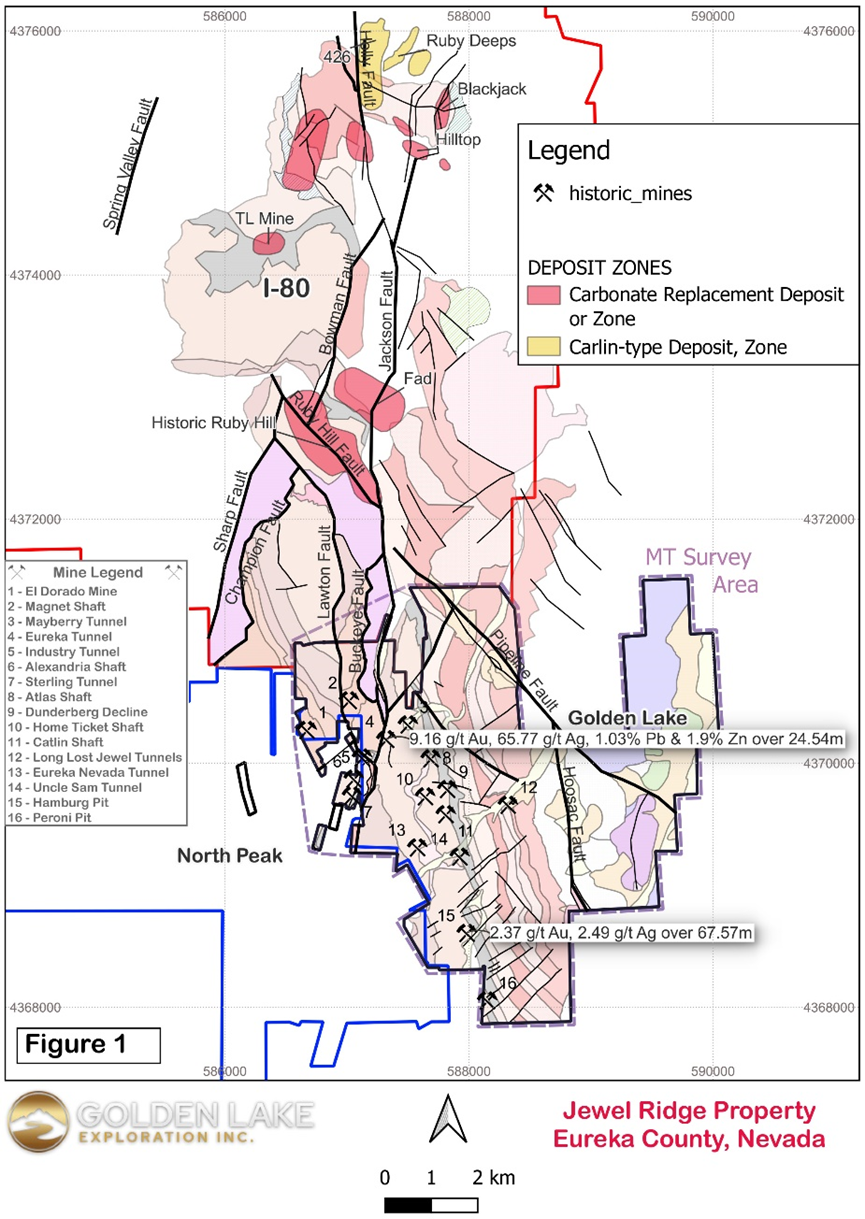 https://www.goldenlakex.com/images/gallery/GLM_Jewel-Ridge_News_72.jpg
Join Our Mailing List
Subscribe to our mailing list to receive updates and other news related to Golden Lake Exploration.
Please enter a valid email address.